A BOAT UPON ITS BLOOD

A Boat Upon Its Blood is a meditative multi-movement instrumental work that charts an arc of shifting energies and intensities, tracing a heterogeneous cycle of minimalisms and maximalisms. Using custom-built equipment to translate breath and heart rate into variegated sonic triggers, along with other modes of signal processing and in tandem with traditional instrumentation, A Boat Upon Its Blood features Jason Sharp on bass saxophone and amplified heart & breath, Josh Zubot on violin and Joe Grass on pedal steel guitar. – Constellation Records
---
COLLABORATION WITH FILM MAKER Daïchi Saïto
Engram Of Returning
"Accompanied by an extraordinary improvisational score by Jason Sharp, Engram of Returning is an epic 35mm CinemaScope metaphysical travelogue that reveals a supernal world which pulses and flickers with formal patterns and deep hues. Transforming anonymous found footage into powerful, expressive and painterly imagery, it is a film about memory and recollection, given form through interwoven backward glances at the real, the imagined and the remembered." – ROTTERDAM FILM FESTIVAL
"ENGRAM OF RETURNING is a mighty explosion of a movie… Saïto, in essence, conjures new trace memories for his audience by offering hazy glimpses of landscapes that are never fully graspable, like halfremembered dreams. The visceral thrill of ENGRAM OF RETURNING owes much to Jason Sharp's circular- breathed saxophone score, which is ruthless and mesmerising. (Darren Hughes)" – Vienna International Film Festival
Winner of the Canon Tiger Award at International Film Festival Rotterdam 2016
Winner of Best Experimental Film award at Ann Arbor Film Festival 2016
---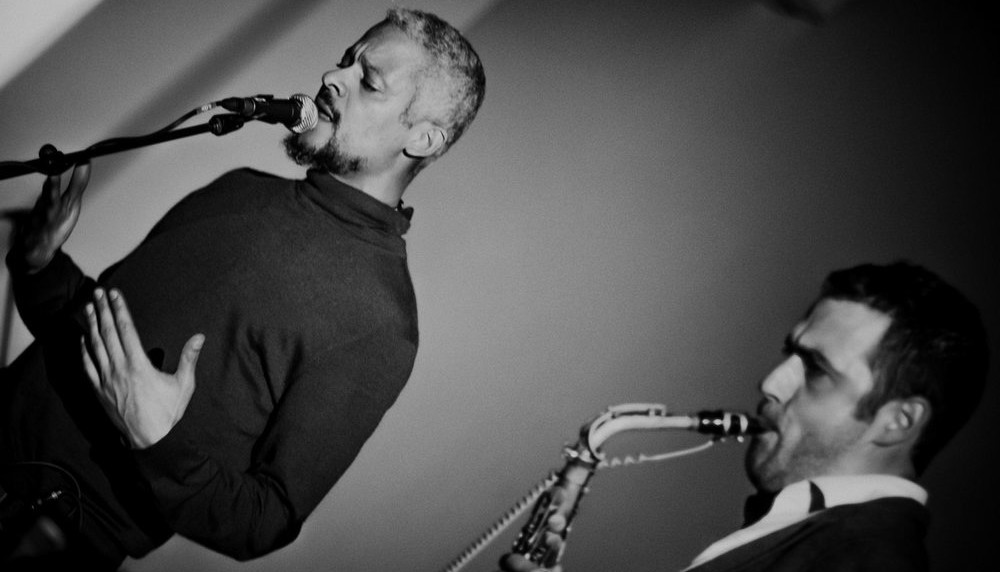 Kaie kellough and Jason sharp have collaborated since 2011, performing in experimental music, jazz, and literary milieus. Their work inhales varied elements, such as lettrism, noise, reading, improvisation, installation, and exhales both acoustic and electronic sound.
"sharp's bass saxophone provided drones and feedback-like distortions of sound, as kellough explored, distorted, and pulled apart words and their meaning, occasionally reducing them to their original phonological sounds as during the final piece RAIL, all performed with a rhythmic intentionality. the result created massive arches of musical tension, as language and musical syntax fragmented and reassembled."
– Tyler Versluis, for musical Toronto
They have performed in festivals across Canada together as a duo including Cluster Festival (Winnipeg), Suoni il Popolo (Montreal), Onomatopeia and Pages Unbound (Toronto), amongst others.
---
SOLO
Solo concerts explore the relationship of breathing and heart rate,  inner and outer resonances, and feedback.
"The performance by saxophonist Jason Sharp continues to resurface in among my day dreams. Taking the theme to heart, Sharp amplified his heartbeat – which seemed to be projected through a massive drum, triggering it to pulse as he raced against it on the saxophone. Placed in front of the massive bass saxophone was a snare drum set on its side. It too would resonate from the vibrations created by the guttural low tones. The performance was remarkable and an excellent choice for closing the outstanding festival."–Natanielle Felicitas, for Cluster Festival